Nicolas Cage Advises Single Fathers: 'Don't Give Up'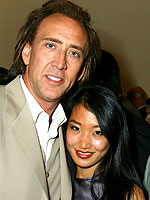 Albert Ferreira/Startraks
The triumphs and tribulations of single mothers are well-documented, but the same cannot always be said for single fathers. That's why actor Nicolas Cage says making his new film Knowing — in which he portrays a single father — was so poignant; It's also why he's dedicated his performance to his real-life son Weston Coppola Cage, 18. "Our relationship was like the one I have as a single dad with the young actor, Chandler Canterbury, who plays my boy in the film," Nicolas reveals to Parade. "Some of the lines in our scenes came out of direct memories of my times with Weston."
The memories aren't always happy — Nicolas acknowledges that "there were some challenges" along the way — but both father and son are now better for it. He adds,
"Just because you're a man doesn't mean you can't raise your kid. I learned that if you are a single father don't give up no matter what they say."
In Knowing, Nicolas discovers a message in a time capsule that appears to predict the future. While the 45-year-old Academy Award-winning actor says he "likes surprises," he still feels that some things would be good to know in advance. "I'd want to know, when it came to my children, if there was a way I could prevent something from hurting them," he explains. "I don't think there's anything that would surpass my parental survival instincts."
Weston is Nicolas' son with ex-partner Christina Fulton; He is also dad to Kal-El, 3, with wife Alice Kim.
Knowing hits theaters March 20th.
Source: Parade