Mary Lynn Rajskub Says Valentine is 'On The Move'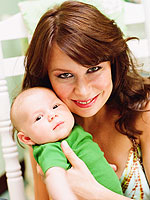 Elizabeth Messina for PEOPLE for use on CBB
Despite her admirable return to pre-baby form, exercise is hit-or-miss at the moment with actress Mary Lynn Rajskub. While walking the red carpet Monday at the Los Angeles premiere of her new film Sunshine Cleaning, the 37-year-old mom to Valentine Anthony, 7-months, revealed that when she has the energy she mixes weight training with walking and yoga. "I've been doing that on and off just when I feel like it." Her workout routine is about to undergo a major overhaul, however, for Valentine is rapidly approaching 'mobile' status! Jokes Mary Lynn,
"He's getting a mouthful of teeth and he's almost walking, which is pretty early. He's just on the move. He's got a lot to do, standing and pulling himself up, speaking full sentences, reading the dictionary in his spare time."
There are no immediate plans by Mary Lynn and partner Matthew Rolph to make Valentine a big brother; The couple are instead choosing to "focus on this one for now." As for marriage, Mary Lynn remains non-committal: "We're just taking it moment by moment," she explains. "But it wouldn't be a bad thing, I don't think."
Sunshine Cleaning is in select theaters Friday; It opens nationwide March 27th.
Source: PEOPLE