Molly Shannon Was 'Destined' to Be a Mother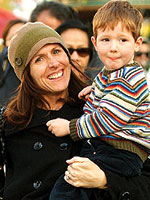 Zodiac/Splash News
Just four years old when she was involved in a car accident that tragically killed her mother and younger sister, actress and comedienne Molly Shannon says that the experience solidified her own choice to become a parent. "I lost my own mom at such a young age … the accident changed our family in an instant," she explained. "My dad survived, and he raised me and my older sister, Mary. [It made] having children of my own someday so important to me — I was destined to be a mom."
Although parenthood was a future goal, at the time, Molly was focused on career. As a castmember on SNL, Molly's Mary Katherine Gallagher character was hitting all the right notes with the audience. Although she was already in her 30s, Molly didn't fully grasp how much she wanted to have children until her then 3-year-old niece came to stay with her in New York City. "We were together in my little studio apartment for four days, and I had the time of my life. I would take her out to dinner and dress her up in princess outfits. It was such a joyful time. That really sealed the deal for me. I knew I had to have kids — soon!" Molly recalls.
After the realization, Molly didn't wait long to welcome Stella, 5 ½, and Nolan, 4 this month! "In fact, we had our daughter, Stella, before the wedding," she laughs. Instantly her priorities shifted. "Now family, not career, comes first. That doesn't mean work isn't important to me. I like to work but I don't want to be away from my family, so I make sure I can bring them to work with me because my kids are young … it's easy to take them along on location," she explains. It also helps that Molly's husband, artist Fritz Chestnut, "has a flexible work schedule, so he comes along, too."
"It doesn't matter where we are, as long as we're together I know that as my kids get older, it will be more difficult to travel with them because I won't be able to pull them out of school."
That is one reason that the 44-year-old is loving her role on NBC's Kath & Kim. The show "has been such a great opportunity; it's steady work, and it's in one place," shares Molly. "I'm happy that my kids see their mom work and love her job." Molly believes that she's "a better mother because I have a career." The kids come to the set and use her trailer as a playroom, but that doesn't mean they necessarily understand mom's job!
"I recently asked my son, and he said, 'You put on nails, and you color.' He sees me on the set of Kath & Kim and my character wears these colorful press on nails. Then I'm in a trailer coloring with him."
Click below for Molly's description of the games she plays with her kids, as well as one of her mommy mishaps!
The fun isn't limited to on-set time — it continues at home as well. "When we're home together, I encourage silliness — I actually like it when my kids act wild," says Molly, adding that "We make up a lot of games." Sometimes the kids "pretend they're puppies, and I bring them to the pet store … I pretend I ordered a doll, and I put the kids in a box, and I'm like, 'Oh my God, look at this baby doll. She talks.' They also love just running around the house, making up little activities or drawing pictures."
Finding a balance between her career and family life has been hard for Molly, as it is for many non-celebrity mothers. "Supporting and helping other moms is important to me," she explains. "We're so hard on ourselves. We need to remember it's not magic — for any of us … we all get stressed."
Molly recalls one of her most stressful moments as a mom thus far, which occurred as she flew into LAX alone with the children.
"At the baggage claim, I was trying to balance the stroller with both of them in it and carry the bags, and there was just a lot going on. The stroller tipped over, and the kids screamed because they were scared. No one was hurt. This kind of thing happens to all moms, but talk about pressure. I've accepted that I'm not perfect. I have lists of things I need to get done each week, and a lot of stuff might not get done. You know what? That's okay.

My family is healthy and happy. After going through a life-altering loss as a child, I understand that family is what matters most. Sometimes I say to myself, 'I wonder what my mom would think about this.' Having children has been very healing I feel so fulfilled right now — I'm a happy mom."
Source: Working Mother