Sam and Lola Sheen's Brothers' Names? Duke and Zoe!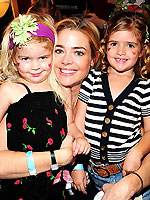 Albert Ferreira/Startraks
While Charlie Sheen and his wife Brooke Mueller Sheen — due April 26th — are spending their time narrowing down the name choices for their twin boys, the actor's ex-wife Denise Richards reveals that her daughters are already ahead of the game!
Thrilled with the idea of becoming big sisters, 5-year-old Sam and 3 ½-year-old Lola Rose "talk about the boys all the time," and have even called dibs on who gets which baby. "They each have picked one out," says Denise. "Sam has picked her brother and Lola has picked hers." As for the baby boys' names? Apparently they've got that covered too!
"Sam named her brother Duke and Lola named her brother Zoe."
Although Denise admits that she has "no idea what Charlie and Brooke will end up naming the boys," she laughs that, for now, Duke and Zoe are what her girls "have come up with." Evident from their interest in naming their brothers, the 38-year-old is confident that the twins will have "great big sisters" in Sam and Lola. "They're very cute and they're very excited," she says.
Next up for Denise? Showing off her dance floor moves for America! Dancing With the Stars premieres tonight at 8 p.m. EST on ABC.
Source: E! Online