Trista Sutter Hopes to Stretch Pregnancy 'As Close to Term As Possible'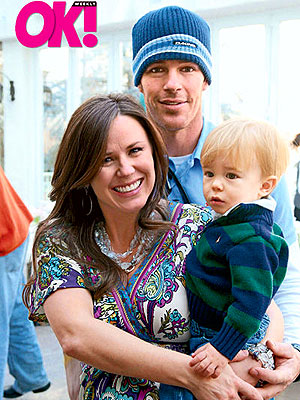 Courtesy OK!
Due with her daughter next month, Trista Sutter can see the finish line! However, according to the expectant mama, she is doing everything in her power to stretch out her journey as long as possible. After delivering her first child — son Maxwell 'Max' Alston, now 19 months — four weeks premature after numerous complications — such as HELLP syndrome — arose, Trista is hopeful her baby girl will "go as close to term as possible."
While her wishes seem to be coming true — she "feel[s] good," albeit a bit "tired" — Trista reveals that a recent cold left her with a slight scare and a trip to the hospital as a result of dehydration.
"I got a cold and wasn't keeping up with my fluids. I was having Braxton Hicks contractions, which are like fake contractions. I've had them throughout the pregnancy, once an hour or twice a day, but this was every five minutes. They rehydrated me and sent me home the next day."
With a history of pregnancy complications, Trista and her husband Ryan have made it no secret that their brood will be complete following the birth of their second child. According to the 36-year-old, if their daughter arrives safe and sound, she will be thrilled with her family of four. "As long as she's healthy, I'm going to have a permanent sterilization procedure done [a few months after the birth]," Trista explains. "God forbid, if she is unhealthy or we lose her, then I would try for another one."
While the whole family is looking forward to the arrival of the baby girl — whose name will "remain private until she arrives" — if Max had his way, Ryan would be delivering as well! Aware of his mommy's burgeoning belly, Trista laughs that the toddler has yet to fully grasp the concept. "Last night he lifted up Ryan's shirt and goes 'baby,' so I don't think he quite gets it yet!"
For the excited mama, the pleasant surprise of finding out they would be having a daughter worked out perfectly for the couple. "I just feel lucky that I'll have one of each," she says. Clearly elated with her baby boy, the former Bachelorette looks forward to watching Ryan nurture the special father-daughter bond with the upcoming arrival.
"That was a big reason why I wanted a girl actually. Typically, it's daddy's girls and momma's boys. I think it's going to be so special to have a girl who will have her daddy wrapped around her little finger."
Source: OK!