Carla Bruni: 'You Can Build a Powerful Bond' Through Adoption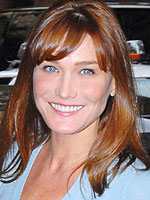 Carlos Vila/Gardiner Anderson/Bauer-Griffin
Calling adoption "perhaps the purest form of motherhood," France's first lady Carla Bruni-Sarkozy says she'll pursue parenthood with husband Nicolas Sarkozy any way she can. "I would like [to have a biological child], but I don't know if at my age it would be possible," she explains to Le Figaro magazine. "If it's not biologically possible, I'll adopt one." Noting that "you can build a powerful bond" without "blood ties" — something Carla says she's "not obsessed" with — the 41-year-old supermodel-turned-pop singer is keeping her options open, and her efforts in perspective.
"So I'd love to have a child, but I'm not going to fight against nature, and at the same time, as I already have one, and my husband has three, you can't really say we have a need of children."
Carla is already mom to Aurélien Enthoven, her 7-year-old son from a previous relationship; Nicolas, 54, has three children and two step-children from previous marriages.
Source: Le Figaro via Telegraph