Sheree Murphy Sings the Praises of Baby Yoga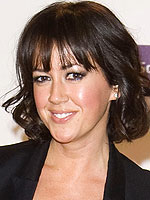 Mike Marsland/WireImage
Admitting that she "never wanted to be a housewife," former Emmerdale actress Sheree Murphy remains exactly that while husband Harry Kewell is away on a soccer assignment in Turkey. The 33-year-old mom of three tells Closer magazine she's "desperate to get back to work" when Harry returns to England. "I'm happy to do the school run in a tracksuit or jeans, but I do love dressing up and feeling glamorous again." On those low-key days at home Sheree can often be found doing yoga with her youngest child, Matilda, turning 1 later this month.
"I used to dance at drama school and always found yoga too slow, but now I have kids I find it so relaxing – doing baby yoga sequences with Matilda is a simple and gentle form of exercise. Just swinging her in the tiger in the tree pose gets my arm muscles working."
There are plenty of benefits for Matilda as well! "The slow movements can really soothe babies," Sheree explains. "It can even help with trapped wind!" Diet is a big part of Sheree's efforts to reclaim her pre-baby body, as well. "I've found it harder to shift the weight every time — in fact, I think I must have been on a diet ever since I became a mother at 26," she laments. Because she breastfed each child, Sheree refused to count calories the first two months postpartum but since starting her latest diet she's been "very disciplined." So much so, Sheree says she's even developed ways to avoid the biggest diet saboteur of all: "I stop myself from eating the children's leftovers by pouring ketchup all over them or putting them straight in the bin," she reveals. When all else fails, Sheree says she will resort to plastic surgery.
"I'll definitely have a tummy tuck and a boob lift in the future, but Harry and I would like a fourth child, so I'll wait until after that."
In addition to Matilda, Sheree and Harry are parents to Taylor, 7 and Ruby Heather Toni, 5.
Source: Closer