Reese Witherspoon Recalls Life as a Young Mother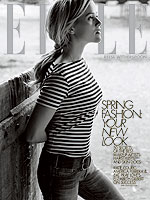 Courtesy ELLE
Although she currently commands upwards of $15 million per film, there was a time not so long ago when Reese Witherspoon lived a much more humble existence! In the cover story for the April issue of ELLE, the 32-year-old actress recalls that when she came home from the hospital with her first child — 9 ½-year-old Ava Elizabeth— she "couldn't afford" to hire any help. What's more, having recently relocated to Los Angeles from her native Tennessee meant that there was no help of any kind to be had.
"It was so hard…living [away from my family]. I really didn't have any friends. And I had a baby."
Noting that "no one else who was 22 had a baby," Reese says that — like most young mothers — she missed out on much of the fun her peers were enjoying. "I couldn't go out," she explains.
In addition to Ava, Reese is mom to 5-year-old Deacon Reese with ex-husband Ryan Phillippe.
Source: ELLE