Marcia Gay Harden Says Eulala is a 'Stellar Audience'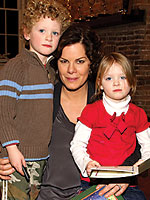 Bryan Bedder/Getty
During a recent appearance on The View, actress Marcia Gay Harden, 49, revealed that she recently performed her new play God of Carnage for a very special audience of one — her 10-year-old daughter Eulala Grace. "She came to the technical rehearsal and I have to say there are a few 'f' words in the play, but she's heard those at home from me," Marcia said with a laugh. "I wanted her to see what mom does." Eulala stopped by Marcia's dressing rooms — she has three, as do each of the other three actors in the production — and proceeded to claim one as her own.
"Eulala came in and she took the second one; My clothes were all inside. She said, 'Mom, do these have to be in here?' I said 'No'…[So now] my clothes are all hanging in the hallway."
Marcia soon made her way to the stage to begin the rehearsal, and Eulala made her way to a nearby balcony. "She's watching the play, she's leaning down, blowing me kisses…I can hear her audibly sobbing at the sad parts," Marcia recalled. "When it's done, I said, 'Honey do you like it?' She says, 'Oh, I loved it!' I said, 'Was it over your head?' She said, 'Oh, no. I got everything except the words." Added Marcia,
"Matthew [Warchus], our director, would love that because he says he tries to direct a play so that if you can't hear it, you just watch it and you'll know what is going on. [Eulala]'s a stellar audience."
In addition to Eulala, Marcia and husband Thaddaeus Scheel are parents to 4 ½-year-old twins Julitta Dee and Hudson Harden.
God of Carnage opens later this month at the Bernard Jacobs Theater in New York City, and runs through July.
Source: The View