Indy Driver Scott Dixon and Wife Expecting First Child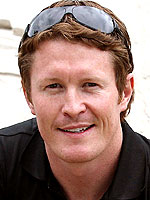 Alberto Tamargo/JPI
Two-time Indy Racing League (IRL) winner Scott Dixon is on the fast track to fatherhood! The 28-year-old race car driver — who finished first in last year's Indianapolis 500 — is expecting his first child with wife Emma Davies-Dixon. Baby-on-the-way is a delivery surprise due in July, according to Scott's dad Ron Dixon, who adds,
"He went from all of a sudden not wanting kids to, yeah, it would be nice to have a kid — so why not now? It's typical of Scott. If he wants something, he goes and buys it."
Scott and Emma recently returned to the United States after spending time in Antigua, where they had been celebrating their first wedding anniversary.
Source: New Zealand Herald
Thanks to CBB reader Jenna.