Felicity Huffman on Seeing Children for 'Who They Really Are'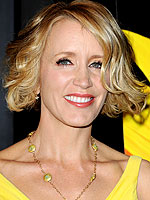 Axelle/Bauer-Griffin
In her new film Phoebe in Wonderland Felicity Huffman is in familiar territory, portraying a mom — just as she does on ABC's Desperate Housewives. Off screen, she's mom to Sofia Grace, 8 ½, and Georgia Grace, turning 7 next week, so the 46-year-old actress has plenty of experience to draw from in bringing her characters to life. "I've always thought that my prime job as a parent is to see my children not as who I want them to be or who I hope they become, but who they really are, which means you protect and support your child's specialness," Felicity tells Parade. "But that brings you to the next challenge: While you're nurturing your child's unique qualities, you don't want it to blind you when they need help." Noting that "you have to be careful you don't lose that bridge," she adds that being realistic about being different is key.
"We want our kids to be special, but when they are it often comes with challenges and pain. Sometimes they're lonely. Sometimes they feel like a freak, as we all feel like freaks when we depart from the norm."
Although the girls aren't yet teenagers Felicity says that by playing a mom to teenagers her hit television show she's been given a unique insight into what awaits both she and husband William H. Macy. "I'm beginning to understand that [teenagers] need almost more parenting and less at the same time," she observes. "That's a dilemma I'm sure a lot of people in America can identify with."
Phoebe in Wonderland is in theaters now. Desperate Housewives airs Sundays at 9 p.m. on ABC.
Source: Parade