Paul Stanley: 'As My Family Grows Bigger, It Grows Better'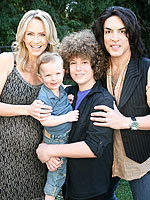 Zen Todd for use on CBB
Since welcoming his third child — and first daughter — in January, KISS frontman Paul Stanley says life couldn't be better. "Thankfully, as my family grows bigger it grows better," he tells Star magazine. Entering into the uncharted territory of raising a little girl, Paul and his wife Erin Sutton's first step was to settle on a name. Eventually choosing Sarah Brianna, Paul shares that the moniker is a "solid biblical name." In reality, he jokes, the parents were left with slim pickings as their top choices have already been used by other Hollywood families!
"And besides, all of our favorite fruit names were picked!"
With the whole family delighted by the addition of a baby girl, Paul is certain that Sarah is a sign to remind him of his youth. "This little treasure is obviously some sort of payback for my wanton years," he says. However, Paul and his two sons — Colin Michael, 2 ½, and Evan Shane, 14, Paul's son from a previous relationship — are clearly in love! A veteran dad, Paul boasts that "no sister could want two better brothers," but admits that raising a little girl after dealing with boys has been a slight learning experience for the diaper-changing dad.
"[Diapers are] no problem, but after two boys, I have to admit that, anatomically, it's a bit of an adjustment."
With the band heading out on tour, Paul shares that his family will be joining him on the road. While the arrangement won't leave the 57-year-old with much quiet time — "it'll be interesting to find out which is louder: the stage or the hotel room" — Paul laughs that his years spent painting his traditional KISS face, will not be helpful in passing any make-up tips on to his daughter. "I doubt she'll ever want a star on her eye," he explains.
Source: Star