Calista Flockhart Says Liam Won't be an Actor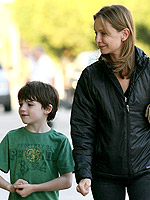 Ramey
Sometimes the apple falls far from the tree, and the tree is thrilled! When asked during a Friday appearance on Jimmy Kimmel Live! whether her 8-year-old son Liam has shown any inclination toward a career in acting, Calista Flockhart could barely conceal her glee. "No," she replied. "None, and that's nice." Instead, Liam is focused on more mundane pursuits — like animals and sports. Those two worlds recently collided for Liam at Halloween, when he dressed as a Los Angeles Dodger baseball player … who also happened to be a dog! Recalled Calista,
"He was a 'dodger dog.' I thought it was so clever, he came up with it himself."
The 44-year-old Brothers and Sisters actress, was quick to clarify that one aspect of the costume held more significance for her son than the other. Liam "sometimes" plays baseball, she said, but is primarily "an animal fan."
Source: Jimmy Kimmel Live!