Alison Sweeney: Megan's An Easygoing Girl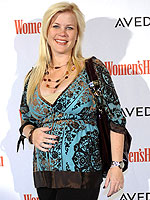 Stefanie Keenan/Wireimage
Alison Sweeney is usually quite the multi-tasker, balancing two jobs at once. However, now that she's finished taping the latest season of The Biggest Loser, she has a moment to catch her breath! The Days of Our Lives star is mom to Benjamin Edward, 4, and, seven weeks ago, added daughter Megan Hope to the family. The new addition "is fantastic," Alison, 32, shares. "She eats really well, sleeps well (for a tiny, little baby!) and is overall very easygoing."
After putting fingers to keyboard and submitting that to the blogsphere, Alison was quick to knock on wood! "If I just jinxed myself, it's actually out there in cyberspace, forever, LOLing at me," she laughs. The actress isn't the only one who has fallen head over heels in love with Megan — Ben is loving his new role as big brother as well.
"Ben has been a great big brother (knuckles are now raw). But seriously, it's so sweet when he asks to hold her, etc. He calls her 'cutie pie' and 'Megany-wegany.' It kills me."
Alison is married to highway patrolman Dave Sanov.
Source: Alison's Blog at NBC