Toy Fair 2009: Snow White Emerges from the Disney Vault
In honor of Disney's first princess fairytale and first-ever animated feature film, Snow White and the Seven Dwarfs releasing from the Disney Vault on Platinum Edition DVD this fall, a whole crop of Snow White-themed products will hit stores this fall. Click to see the new Snow White toys that we previewed at Toy Fair!

Dolls
The Snow White and the Seven Dwarfs Sing Together Friends Doll ($25, available in July) from Mattel is surrounded by her animal friends and features her iconic dress with lots of beautiful sparkly details. When girls place the bluebird friend in Snow White's hand, the bird will whistle. When the bird is placed in her hand again, Snow White will sing a melody with the bluebird. On the third activation, Snow White will sing her iconic song "Someday My Prince Will Come" while her sleeves magically light up. Snow White also comes with a bunny and chipmunk.
The Sparkling Disney Princess Snow White doll ($11, available now) from Mattel is dressed in her signature gown with extra sparkling detail. The Sparkling Princess Royal Horse Assortment ($17, available now) from Mattel comes with "jewels" that can decorate the mane and tail and can also be worn by the girl.
Also available right now exclusively at the Disney Store is the Disney Princess and Friends Snow White doll ($17), which has been recently redesigned to more accurately reflect the original animation. She also comes with two friends, Happy and Dopey.
Two baby doll versions from Mattel will be available in July including Disney My First Princess® Baby Snow White ($13) which is a cuddle-size doll that comes dressed in a onesie and Disney Twinkle Pretty Baby Snow White ($24) which wears a version of her classic fairy tale dress and comes with a matching bottle that lights up and plays music when placed in the princess's mouth. Again, I wish all baby dolls didn't come with a bottle- what about a light-up pacifier?
I think Snow White is beautiful just the way she is but with the Disney Princess Royal Make-Over ($30, available in June) from Mattel, you can touch up those rosy cheeks and lips and fix her fab ebony bob. It comes with a princess mirror, a hair brush, hair extensions, a princess necklace that doubles as a bracelet for girls and a color change applicator so kids can apply faux makeup. Girls can create pretty hairstyles and give their princesses a makeover with special "magical" color-change makeup. It comes with a life-size crown for the girls and a princess necklace that doubles as a bracelet.
Dress-up
The Snow White Infant Costume ($20) and Snow White Ballerina Classic Costume for toddlers ($25) from JAKKS Pacific each include a dress with sparkling print overlay, puff sleeves and character cameo.
The Disney Princess Deluxe Snow White Dress for girls ($35) from JAKKS Pacific goes a step beyond with more luxe fabrics, a four-color print of Snow White and an even more pronounced collar.
When I saw the dazzling Snow White Sassy Prestige Costume for adults ($90) from JAKKS Pacific, I found my Halloween costume! It includes a dress with petticoat, detachable red cape, lace-up corset, and bow headband. To be clear, I will be wearing the long version not the, um, sassy short one!
Complete the dress-up fun with a Snow White "Tiara" ($8) which is really a headband with a big bow and Snow White cameo and comes with a necklace and clip-on earrings, Snow White Light Up Wand ($12) and Snow White Bag Set ($10) which includes an apple-shaped handbag, red gloves and necklace, all from JAKKS Pacific. I love how they incorporate the heart and apple motifs into these items, though I'm wondering if the hearts are supposed to represent the heart that was supposed to be delivered to the Queen as proof of Snow White's death – kind of gruesome.
Role-Play Toys
If your child wants to role-play cleaning like Snow White cleaned the Dwarves' home, they may like the Disney Princess Snow White Musical Cleaning Set ($25) and Disney Princess Snow White Musical Vacuum ($30) from JAKKS Pacific. The cleaning set's broom is musical, and also includes a dust pan, scrub brush, duster, bucket and sponge. The vacuum makes vacuuming sounds and sparkles swirl in the center when activated.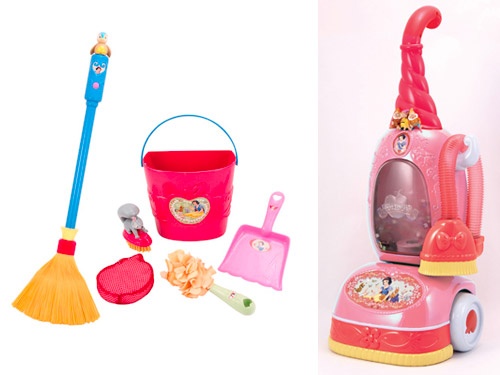 I will say this about these toys- I have an issue with giving my daughter Princess-inspired cleaning and cooking toys (or really any Princess toys) because I want my daughter to be a well-rounded person who understands that life isn't just about dressing up and looking pretty and that she can do anything she wants. I would have less of an issue with Princess-themed cleaning and cooking toys if they also made versions to accompany their other movies, like Bolt, Cars, etc. Last fall, we reviewed a Mickey Mouse Playhouse Vacuum but that's the only gender-neutral cleaning set I've seen at Disney and I encourage them to think more about their role in enforcing gender-stereotypes.
— Danielle