'Top Chef' Hosea Rosenberg Plans a Meal for the Jolie-Pitts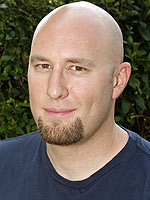 Bravo
When you have six kids, dinnertime is probably a little interesting! But for Top Chef winner Hosea Rosenberg, cooking for a family of eight — say, the Jolie-Pitts — is a snap. The newly-crowned winner of the Bravo TV reality show sat down with PEOPLE earlier this week to "dish" on what he'd serve the famous family. He shared,
"If they came [to my restaurant] with all their kids I'd do something family-style. I'd do a paella or some sort of jambalaya; something where they can just all get into it and get dirty."
Though the Top Chef — not a dad himself — "loves kids," cooking for them is a different story! He told PEOPLE,
"I love cooking for kids, but you can't do anything pretty and sexy or nice for a kid because it's just going to get spilled everywhere!"
For more with Hosea, check out PEOPLE's video interview here.