Kelly Rutherford Plans a Nursery…Without a Home!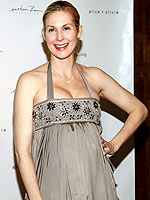 Sara Jaye Weiss/Startraks
Putting her acrimonious split with husband Daniel Giersch behind her, Kelly Rutherford tells OK! that the estranged couple are moving on — and that their relationship is now "amicable." Noting that "everyone has their moments," Kelly explains that both she and Daniel "have a lot of love in our hearts…It's just [about] figuring everything out." One big thing the 40-year-old Gossip Girl star is yet to figure out is which coast she, son Hermés Gustaf Daniel, 2, and the daughter she expects in June will call home in the wake of the separation.
"We've been coming up with some ideas. Right now I'm just finding some tear sheets and talking to different people about doing a nursery. I've got to figure out if I'm going to do it in L.A. or New York because I think I'm going to be in New York more. So it's more logistics."
As for Hermés, Kelly reveals that he's "getting excited" about baby-on-the-way, and that he already calls his little sister by name. "We talk about it," Kelly reveals. "I don't know if the reality is there yet but he's really sweet…I think he's going to be an amazing big brother." As her due date approaches Kelly says she's craving only healthy foods, which will surely make the job of returning to pre-pregnancy size easier! "Lately it's been celery and carrots…Like crunchy vegetables and fruits and things like that," she explains. "I ate a whole papaya on the way here, with lime." With the reality of being a single, working mom with two small children looming large, Kelly says she's not intimidated, and is instead keeping it all in perspective.
"You do meditation, you do yoga, and you pray. You focus on what's important and on being a mom."
Source: OK!