Happy Birthday Shaya Charvet!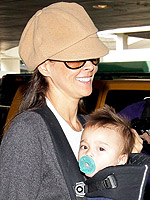 Neill J. Schutzer/Ramey
Happy Birthday Shaya Braven Charvet! Brooke Burke and David Charvet's youngest is 1 year old today. Introduced to the world last year in In Touch, the family's only son has been quite the California baby, spotted on the beach, out and about in Malibu and even at the mall. A model like his mama, Shaya is the coverboy on this month's Mom & Baby!
Little brother to Heaven Rain, 2, Sierra Sky, 6 ½, and Neriah, 9 this month, Shaya is doted on by his family members, and as the only boy, gets lots of fun toys from mom and dad! On his way to becoming a strong, opinionated little man, Shaya is certainly growing up quickly, and we can't wait to see more of him in the years ahead!