Eric Mabius Discusses the 'Betty' Babies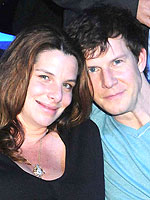 INF
The set of Ugly Betty is like one big playground! New dad Eric Mabius says the cast, many of whom have recently had or are expecting babies, all share advice about parenthood. They especially look to Vanessa Williams, who is like a den mother to the cast, for guidance.
"She has kids of many different ages," says Eric, who stepped out with wife Ivy Sherman for the DKNYMen fragrance launch at the penthouse of the Rivington Hotel on Wednesday. "It's nice to look up to a person who can balance family and career."
Ivy, an interior designer, says Vanessa always "wants to talk babies. She has great advice about being organic. She has friends with different cool baby-related companies, one an organic baby [products] company called Green Baby."
The couple have also swapped recommendations for doctors for the Betty babies. "We have a rock star OBGYN that we've shared with Ana [Ortiz]," says Eric of his co-star, who is expecting her first child — a daughter — in July. "He was referred by our OB in Santa Monica. We ended up in such amazing hands. Our baby turned out to be a high risk — Ivy pushed out a 10 lbs., 3 oz boy. Most hospitals in New York wouldn't allow you to deliver a baby that size naturally, but he was totally up for it. She used no major drugs and there was no c-section!"
That chunky baby — Rylan Jaxson, born December 7th — has now just turned three months old, and joins big brother Maxfield Elliot, 2 ½. "[Rylan] is extremely heavy," mom Ivy laughs. "He's a dream baby. He's very chill. He just likes to sleep and eat."
Eric also gives a shout-out to recent mother of twins, Rebecca Romijn. "She had almost 13 pounds of baby," he said. "That's pretty amazing. We've seen photos. And for feeding, she's doing the double football hold," he said — then demonstrated tucking two imaginary babies one under each arm. Perhaps some jobs are best left to mom!
Source: PEOPLE, with CBB-exclusive quotes