Cynthia Nixon Dishes on Daughter's 'Eclectic' Style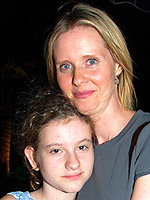 Fred Montana/Splash News Online
Happily confirming that there will indeed be a sequel to the Sex and the City film during a Tuesday appearance on Live with Regis and Kelly, Cynthia Nixon is no doubt looking forward to the fashion-forward wardrobe she and her castmates will be treated to. There is a little fashionista in the making at home, however, in the form of Cynthia's 12-year-old daughter Samantha! Quick to clarify that "she's not like a Sex and the City fashionista," the 42-year-old actress says that Samantha is instead "like a vintage store fashionista," adding,
"She was already headed down the Janis Joplin route but then she saw Hair last summer and that just cemented the whole thing. She loves big peace earrings and she wears a lot of tie-dye. She's very eclectic; She'll go to school wearing a big silver circle around her eye."
Also mom to 6-year-old Charles Ezekiel — who is not only learning to read but is also involved in a dual Spanish-English language program — Cynthia says that both kids enjoyed a rare snow day on Monday, the first time New York City public schools have closed due to the weather in five years. "It was also Dr. Seuss' birthday, and my daughter was very into that, so we made a Cat in the Hat, hat," she shared.
Samantha and Charles are Cynthia's children with ex-boyfriend Danny Mozes.
Source: Live with Regis and Kelly