Tina Fey Realizes 'Oh…Now I'm a Mom!'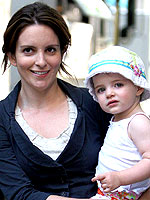 Luis Guerra/Ramey
For some women, the role of 'mom' is assumed immediately after childbirth, but for others the title takes some getting used to. Tina Fey falls into the latter category!
During a Tuesday appearance on Late Night with Jimmy Fallon the 38-year-old actress revealed that although she welcomed daughter Alice Zenobia nearly 3 ½ years ago, it still only fleetingly occurs to her that she's actually somebody's mom. "If I catch myself going by the mirror sometimes I'll be like, 'Oh God, somebody's mom is in here!" she joked. "You also start to look like a mom…you don't clean yourself right." Then there are the moments where the reality of being someone's mother is inescapable!
"There are so many things now that I do where I'll be like, 'Oh, now I'm a mom.' Like when your kid hands you their boogers, and you take it. You're like, 'Okay, I'm a mom.' Or when I find myself getting mad because I'm trying to put underpants on someone who is dancing."
Alice appears to have inherited Tina's famous sense of humor. Calling her daughter "kind of an uncredited writer" for 30 Rock, Tina reveals that Alice "says crazy stuff" that then makes its way into the show. "She saw the Disney World website on the computer one day and she's like 'I want to go to there.' So now my character [Liz Lemon] says that when she really likes something," Tina says. Fans of the show take heart: There is more Alice-speak on the horizon!
"I've got a couple more that need to get used, like the other night I gave her a lollipop and it was getting close to bedtime, so I said, 'Okay, are you done with that for tonight?' She was like, 'No mommy. I wanna have a lot of sucks tonight.' I was like, 'What?' She said, 'I'm gonna have a lot of sucks tonight.' So that's probably a good line for Tracy Morgan or something."
Alice is the first child for Tina and her husband of seven years, Jeff Richmond.
Source: Late Night with Jimmy Fallon
Click below to watch the video!

[clearspring_widget title="Late Night with Jimmy Fallon – Tina Fey (3/3/09)" wid="4727a250e66f9723″ pid="49aedd0300a64f96″ width="384″ height="283″ domain="widgets.nbc.com"]