Milla Jovovich Works Her 'Big, Little Butt Off' to Lose Baby Weight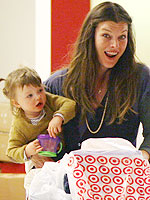 GSI Media
Actress and model Milla Jovovich famously gained more than 70 pounds while pregnant with daughter Ever Gabo, and while it's taken her 16 months to lose the weight, she's done so with a healthy diet and lots of exercise. "I worked my big, little butt off," she notes. "At one point I just ate oatmeal, salmon and artichokes every day for a week…It was definitely a lot easier putting it on!"
Now that she has returned to her pre-baby body Milla says she's not in any hurry to undo all her hard work, either!
"I do want another baby but not for a little bit. I've only just lost all the weight so I want to enjoy my old body for a while before I have to become a crazy alien again."
Ever is the first child for Milla, 33, and her fiancé Paul W.S. Anderson.
Source: FOXNews.com