Lisa Loeb Says Motherhood is Her 'Next Big Project'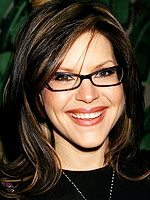 Dave Allocca/Startraks
Singer Lisa Loeb is ready to take the next step and add motherhood to her resume, she reveals in an interview with OK!'s Red Carpet Confidential. After tying the knot with Late Night with Conan O'Brien's music coordinator Roey Hershkovitz in January, the newlyweds are more than ready to start a family. "That's the next big project," says Lisa, adding that she would "love to have children."
With fond memories of a "great childhood," the 40-year-old songstress looks forward to creating a similar safe haven for her future kids. "Everybody says it's an amazing experience to have your own kids, whether you adopt them or have them yourself," she explains. While the benefits of motherhood are countless, Lisa can't help but joke that reliving her school days with her children will hopefully allow for her to absorb some of the educational material she may have missed out on the first time!
"I'm looking forward to going back through all of school and doing my homework with them. Learning all the things that I left out, through their eyes."
Up next for Lisa is the debut of her glasses line this spring.
Source: OK!