Brooke Burke: Four Kids 'Rocked My World'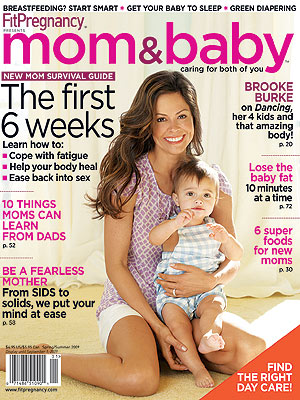 Courtesy Mom & Baby for use on CBB
Dancing her way to the top — ultimately winning the disco ball trophy — on Dancing With the Stars, Brooke Burke learned far more than the traditional tango steps; For the mom of four, the decision to be a part of the hit show turned into her "biggest commitment [I] ever made professionally."
With a strict routine that had her practicing eight hours a day, seven days a week, Brooke kept the communication lines open with her kids, letting them in on the experience as well. "As a family, it really brought us closer," she tells Mom & Baby in their Spring/Summer issue.
Her dancing days now behind her, Brooke has focused her attention back on her family. For the 37-year-old, that means joining her children every morning for breakfast and shuttling her oldest girls — Neriah, 9 this month and Sierra Sky, 6 ½ — off to school, often bringing her youngest daughter, 2-year-old Heaven Rain, along for the ride and leaving Shaya Braven, turning one tomorrow, at home.
Juggling the schedules with four kids has become a learning experience, Brooke admits. "Three kids were easy. Four rocked my world." Having "always wanted" a large family, but still "devot[ing] time to my professional life…and not let[ting] one compromise the other," has been tough for the model, who has ultimately brought in a few extra sets of hands to help.
"Having Shaya, I finally had to accept the fact that I can't do it all myself and I had to learn how to delegate, so I do have people helping me at home with my children. I never had a live-in nanny when I had just three kids. But with four, I physically cannot be everywhere at the same time."
However, Brooke insists that her brood leads a normal life, one that includes the tradition of eating dinner together every night. "I try to get all my work done during the day and we always have dinner together," she says. Maintaining a sense of normalcy for their kids is equally as important for Brooke's fiancé David Charvet, whom the actress calls "an amazing father." With a "completely hands on" approach to raising the children, Brooke reveals that David willingly does his daily share of daddy duties!
"He feeds the babies. He changes diapers. He gets up with them during the night. He's very affectionate with the kids, and he spends a lot of time with them."
More on Brooke's breastfeeding experiences and the challenges of raising four kids below.
Still, despite David's support, having two little ones in the house is hard work! "It's a challenge having two babies in diapers and two babies not yet sleeping through the night," she admits. According to Brooke, learning to adjust to being a mom to four was a lesson she learned quickly when she found herself unable to continue breastfeeding after only one week. "Nursing has never been easy for me. I breastfed Rain for eight months, but between feeding and pumping, it was a 24-hour job," she explains. "It was really important to me to breastfeed my children, but with Shaya, I had to let go of that pressure and guilt. I wanted that bonding experience, but my body just couldn't do it — I wasn't producing milk — so I had to give myself a break."
Despite the obstacles she faces, however, Brooke is determined to dedicate herself to her family, finding quality time for each of her children.
"Rain is in a mommy-and-toddler class with me on Tuesdays and Thursdays, while Shaya and I grab our moments when we can. When Rain is napping, I'll take a walk with Shaya or get down on the floor with him and play. I think that's the biggest challenge for moms with multiple kids: finding the time to spend with each of them individually."
Source: Mom & Baby, Spring/Summer issue
Shaya wears coveralls from Janie and Jack.