Amy Dalley Says New Baby 'Never Sleeps'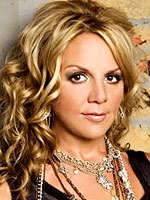 Courtesy Amy Dalley
Update: Amy has responded to your thoughts – see the comment section for her note.
Originally posted March 1st: It's a battle of wills for songstress Amy Dalley and her 8-month-old son Jackson. In a new interview with Country Weekly, she reveals that baby boy is not much of a sleeper. "He woke up every two hours last night," Amy admits. "So that is the biggest challenge, that I'm not very rested." The situation is at such an impasse Amy and her husband Jack Sizemore are "trying to let [Jackson] just cry it out."
"It's pitiful, 'cause he stands up and just swings his head around in the baby bed [laughs]. We probably should have a helmet for him! But we have this little TV monitor so we can make sure he's all right. The other night he screamed for about 2 ½ hours."
Amy realizes that she could "go in there and resolve the whole issue within 15 minutes," and admits that she wonders whether one approach is more beneficial than the other. "Who knows what's gonna be better?" she asks. "It really is an act of wills…Am I stronger or is he stronger? So, I'm gonna beat him. I won't be defeated! [laughs]." Perhaps Jackson won't settle because he can't stand to be away from his big sister, 10-year-old Madeline. The two are already exceptionally close, despite their sizable age difference. "Jackson laughs at everything Madeline does," Amy shares. "He loves to look at her…She's everything to him; When he sees her his whole face lights up, and that is so sweet." Not to mention infectious!
"She'll just move her head funny or somethin' and he'll start dyin' laughin'. And to hear him laugh… then she cracks up. Then we're all laughin'…and it's like, well, there's nothin' better than that. It's really sweet how he just loves her. So I'm glad that she has the opportunity to be a big sister and have a sibling. For a long time I thought it'd just be me and her."
Click below to read about Jackson's newest milestone.
As she marks the release of her new album It's Time, Amy has more than enough to keep her busy — at work, and at home! "Just yesterday, [Jackson] started to crawl, and he can crawl so fast," she says. His new-found mobility was both overdue and — at the same time — unexpected, for Amy says her son previously showed no motivation to crawl. "He rolled everywhere."
"Then he went after the Play Station. It was just funny, 'cause I'm like, 'Wow! He's really fast, too!' I'll never sit down again."
Welcoming a new baby so many years after Madeline was "a little bit more of a challenge" for Amy, who admits that the rigors of caring for a newborn caught her off guard. "Having a brand new baby is harder than I remembered," she says. "I mean, 10 years go past and you don't remember anything."
It's Time is available now.
Source: Country Weekly