Jason Bateman: Proud of His Daddy-Daughter Ads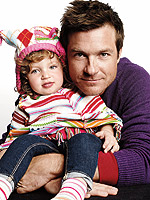 Courtesy GAP for use on CBB
When Gap approached actor Jason Bateman and offered him the opportunity to appear with his daughter Francesca Nora, 2, in their holiday ad campaign, the proud papa couldn't have been more thrilled.
In addition to the beautiful photo shoot, Jason admits that the advertisements allowed him to easily show his baby girl off to his friends. "Anyone who has a kid, when friends ask you if you have a picture, you go, 'Yeahyeahyeah,' and whip out your phone to show off," he says. Instead, Jason skipped the camera phone pics and just pointed to a nearby billboard!
"This was that times ten. Look up there. She's mine. And I love her."
While Jason was excited to be a part of their annual holiday ads, the 40-year-old couldn't help but joke that he failed to receive the star treatment given to Arrested Development co-stars Will Arnett and Amy Poehler, who were the faces of Gap's 2007 ad. "They got the Sunset building. We got Hollywood Highlands. It's a close second," laughs Jason. "If I can be number two or four or five — in State of Play, I think I'm sixth — it doesn't matter; I just want to be in it."
Francesca is Jason's daughter with wife Amanda Anka. Jason's next film, State of Play, is in theaters April 17th.
Source: Elle