It's Been a 'Perfect Pregnancy' for Maxine Bahns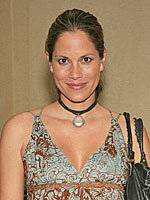 T. Conrad/AdMedia
The Mentalist's Maxine Bahns, who was due at the end of February with daughter Madison 'Maddie' Rose, recently sat down with Celebrity Parents Magazine to discuss all aspects of her "perfect pregnancy," which she attributes to her active lifestyle. "I've been doing a lot of prenatal yoga. It's been incredible to watch how my body has changed," shares Maxine. "I have no complaints at all. I gained 24 pounds; it's all in my belly! I have no veins, no swelling, and no pregnancy mask." Her genetic luck enabled the 38-year-old actress to sign with Expecting Models, where she has participated in runway shows and a Similac campaign. Maxine plans to stay on with the agency after her delivery, explaining that she hopes for "both Maddie and I to model, hopefully together!" Modeling is not the only type of work Maxine, who competes in triathlons, plans to jump back into after the birth.
"Two weeks after the baby comes, I'm going to start working again. I finished a film, The Lost Tribe, which is coming out in March. I'm also doing a film called Karmic; it's an action movie where I play a DEA agent. And of course I will start training for the Half Ironman."
She also hopes to reappear on The Mentalist. "I wasn't really showing [this past fall] so it was easy to film my scenes. I have to see if I'm going to resume filming in the spring; it all depends on the writers," she explains. However, "my character is apparently the driving force behind why Simon Baker's character Patrick Jane does what he does," so a return appearance looks promising. No matter what her career holds for her, one thing is for sure — Maxine plans to travel with Madison.
"The great thing about my job is that I've traveled a lot and I've lived a lot … I love languages, and I love traveling, and I want to share all of this with my daughter. I would love for her to go to French school, and travel with her. I have a feeling she'll be on the road with me a lot. And I'm really looking forward to that."
Click below to learn about the nursery décor and the couple's last-minute preparations!

Maxine had dated previously, but admits that she didn't see herself have kids with anyone until her husband, professional adventure racer Patrick Watson, turned up. "I dated men long-term, but I could never visualize having a baby with them. At one point, I thought I might have to do it alone. But then along came Patrick, and I instantly knew that he was going to be the father of my children," she says. The couple "are both so excited about this baby" and have been finishing up all the details before her arrival. "We just installed the car seat in our car. It's surreal, going from a sports car to a hybrid with a baby car seat in the back," Maxine notes.
They've also checked off one of the last big projects on the preparation list — wrapping up the nursery. "It has a grown up feel. Chocolate brown linens with a few hints of pink, dark baby furniture, a swing, lots of Baby Einstein toys, three Buddhas and a rain/ocean sound machine. Perfect for a Pisces Zen baby!"
Maxine and Patrick announced the pregnancy in January.
Source: Celebrity Parents Magazine