Eva Herzigova Ditches Designer Duds to Get Down and Dirty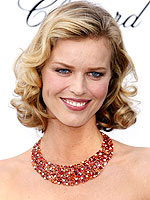 INF
When stilettos and stylists are considered part of a normal routine, the ability to switch gears into a world of diaper duty and playground playdates may be hard for many models to handle; For actress and model Eva Herzigova, the change of pace opened her eyes to the world around her.
Having welcomed her first child in 2007, Eva shares that mothering her 21-month-old son George has been a learn and live experience, with the new mama — who has strutted her stuff countless times on the catwalks — even gaining a new-found sense of confidence. "Being a mother makes you more connected with reality and you get more comfortable with who you are," she tells the Times Online.
Excited to pass some of that sense of self on to her baby boy — she hopes George will grow into an adventurer — Eva has settled down in London, a perfect place, she says, to nurture a curious toddler's needs. "I love London. It sounds silly and romantic to say it, but it's so child-friendly, with all the parks and trees," shares Eva. When the time comes to pack up and head out for a day of play, the "down to earth" 35-year-old has no qualms about ditching her designer duds and actually looks forward to getting down and dirty with her little guy!
"I'm no bourgeois mum who goes out to look pretty with her baby. I'm a tomboy mummy. I dress up to get dirty."
George is Eva's first child with her boyfriend, Italian businessman Gregorio Marsiaj.
Source: Times Online