Swag for the Rest of Us: Ju-Ju-Be Offers Biweekly Giveaways for Real Moms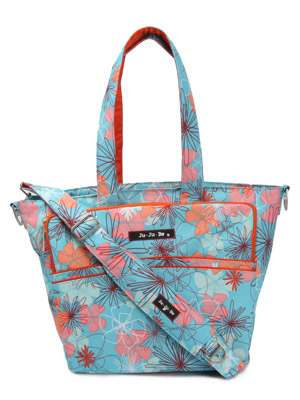 Ju-Ju-Be Be Spicy Bag
Ah, the paradox of celebrity gifting – how celebs who don't need the free stuff are always the ones to get the free stuff. Don't you wish those companies would give free stuff to regular people? Some of them do! Even though they have plenty of celeb fans, Ju-Ju-Be gives away diaper bags to regular moms, as part of their Real Mom Giveaway. Just respond to their food-for-thought question (this week they're asking "what feature is most important to you in a diaper bag?"). Two winners every two week receive a new Ju-Ju-Be diaper bag of their choice. For more info,  and then visit their "Pink Room," where they invite their fans to post feedback and suggestions on their line.
Another company that is giving away stuff to the rest of us is Tastybaby. Their Baby Bailout Tour has had such great response in Southern California that they added two more and will take it cross-country in March! The company is offering giving a free case of their frozen organic baby food (a value of approximately $40) to every family that pre-registers for and shows up at their tour stops.
You know who else gives stuff away to regular moms? We do! Every week we give away stuff from our favorite brands, valued at $200+! Two weeks ago, we gave away an eco-friendly sleep set worth $1100 from La Jobi including a crib, mattress and bedding to CBB Reader Kristen! Click to see what we're giving away this week and enter!
— Danielle