Pete Wentz Says Life is 'Better' Than Ever, Fantasizes About Bronx's Future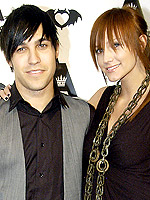 Paul Warner/WireImage
Despite vivid memories reminding him of his struggle with bipolar disorder, for Pete Wentz the tides are turning and his future is looking bright.
While a fond summer spent in Switzerland when the singer was four brings him comfort, the new dad reveals that the past pales in comparison to life with his wife, songstress Ashlee Simpson-Wentz and their 3-month-old son Bronx Mowgli. "Now is even better," he tells the Daily Mail. "With marriage and fatherhood, I've finally found two fixed points in my life." In addition to learning the true meaning of patience, Pete says that Ashlee and Bronx have also encouraged him to embrace his greatest joys in life.
"They've also taught me that I don't need to feel guilty about being happy. My emotional seasons are less extreme."
Having never experienced "peace of mind" before becoming a father — "my brain would never stop" — the 29-year-old's new sense of purpose in life keeps his mind completely focused and content. "Now I'm a father, the world no longer revolves around me," he says. As Pete concentrates his "complete attention" on his son, the proud papa is often left with an utter fascination "to speculate on what [Bronx] is thinking and feeling at any given moment." Taking his thoughts a step further, the singer contemplates his son's life down the road. "I also love to speculate about what kind of man he's going to become," he reveals. "He could be another Neil Armstrong or Christopher Columbus. Who is he going to fall in love with? What's his hair going to be like when he's 15?" While Pete's mind wanders to his baby boy's future, the first-time dad can always count on Bronx to quickly put things back into perspective!
"Then, when I'm fantasizing about all this stuff, he'll go to put his hand in his mouth and end up smacking himself in the eye. He's the single greatest achievement of my life."
The son of two musicians, it is not surprising that Bronx is often lulled to sleep by a few classic crooners. "To get our son to sleep we play him Bob Dylan's 'You Belong To Me,'" reveals Pete. "Or a little [Frank] Sinatra." One singer that won't be found on the nighttime playlist, however, is Pete himself! "My boy's probably the last person in the world to appreciate my singing voice," he notes. Undeterred, the Fall Out Boy bassist penned a special lullaby for Bronx — a hidden track on the band's new album Folie à Deux — and admits he has been motivated to take the kid's music even further. "We had so much fun doing it, I'm going to put out an album of songs for children," he shares.
Source: Daily Mail