Katie Holmes: Motherhood is the Most Important Role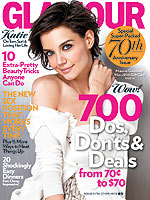 Courtesy Glamour
A little girl growing up in Ohio with her family, Katie Holmes had big dreams for herself. Spending her time idolizing Julia Roberts and Audrey Hepburn as she envisioned herself as a Hollywood actress, Katie also had her eye on her future husband. After watching Top Gun, there was no doubt in her mind — she would one day grow up to be Tom Cruise's wife! "I very confidently said, 'I'm going to marry him one day.' Why not? He'll like me. I'm fun," she recalls.
Achieving her dreams, however, have not come without a price. Constantly in the media spotlight since the beginning of her relationship with Tom, Katie admits that the rumors following the birth of their daughter Suri, now 2 ½, left her feeling extremely protective of her family. "Some of the stuff [people said] was such absolutely horrible things to say about a child. It was so uncalled for and so disgusting," she reveals in the April issue of Glamour. "Enough is enough." Angered by the tabloid stories, the nervous new mom leaned on her husband for support.
"We were changing diapers. He said, 'I don't want you to get upset.' And I said, 'Well, I am upset.' So we approached it together. But I definitely felt like — as a woman, as the mother of Suri — I want to handle this! My mom is very strong and if anyone ever said anything about any of us, she would be, 'Excuse me? That's my family!'"
Addressing the constant scrutiny of her family, Katie would love to give the naysayers a glimpse into their lifestyle. "Sometimes I think I would say, 'Why don't you come over and have dinner?' See what there is to see," she says. However, according to the 30-year-old, they would be quite surprised — or not — to see a normal family spending their time "all together" in their home. "[We] play Yahtzee, board games, Scrabble. We grill; have pool parties," she reveals. In addition to catching family movies together in bed — "recently Madagascar and Cinderella for Suri" — the family of actors are even known to put on their own productions!
"We play 'The Three Little Pigs' and Suri is the Big Bad Wolf. [Tom] reads storybooks to Suri and we all laugh. When a good song comes on, he'll break out in a dance."
More on Suri's understanding of fame and Katie's attitude toward the tabloids below!
While Katie does catch "glimpses of Tom and me in [Suri]," she reveals that her little girl has grown into quite the independent child! Calling her daughter "such a special girl — strong and funny," Katie reveals that Suri often keeps the couple laughing. "She has a great sense of humor," says the proud mama. Already in tune with her surroundings, Suri has even begun to understand the constant attention that follows the family. "[If] Tom or I are on TV, we'll watch it. And when we were in New York, we would see a lot of Valkyrie posters. She goes, 'Look! There's Valkyrie movie!'"
Despite feeling a bit intimidated by motherhood in the beginning — the couple would "sleep right next to [Suri] to make sure she was breathing" — Katie, who "was constantly learning on the job," has completely embraced the responsibilities of parenthood and is thrilled with her role. Crediting Tom with being "very helpful and supportive," Katie reaffirms that having her own family has allowed her to grow into a mature and wise woman, giving her the strength to look past the negativity and focus on living her life.
"Well, becoming a mother has been the most amazing experience — in an instant you become strong. You have to be a little wiser; it's the most important job in the world. I feel really really lucky. And you know what? I feel the best response [to all those tabloid stories] is just going about my life: enjoying life, making movies, being a good mom and a good wife, and focusing on that. Because if you're doing well, what can they say?"
Source: Glamour