Jenny McCarthy: Evan 'Has the Best of Both Worlds'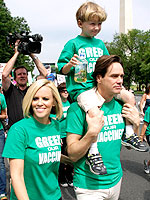 Yuri Gripas/Reuters/Landov
For Jenny McCarthy, sharing her son's personal journey in the public eye to raise autism awareness was not a choice that came easily to the actress — that is until, she says, she struck a deal with God. "I kind of made a deal with God, saying, 'If you help me and you show me how to heal Evan, I promise I will teach the world how I did it,'" she explains. Calling Evan "the poster child for hope," Jenny reveals that these days, her little boy — who has "lost his autism diagnosis" — is a completely different kid.
"He is the most talkative, social, six-year-old little boy, who loves to play with his friends."
Of her continued relationship with actor Jim Carrey, Jenny reveals that the bond between her two main men is stronger than ever. With Evan gaining a new "best friend" in Jim, the 36-year-old model is thrilled that her son is surrounded by strong male figures, but explains that the special role of dad is sacred. "Evan's dad [director John Asher] has remained Evan's dad. So I feel like Evan actually has the best of both worlds," she says.
Despite leading an "incredibly quiet and subdued" life, when Jenny is in need of some entertainment, she need go no further than her very own living room. Having developed a love for acting out "scenes in a movie," Evan, along with Jim, certainly knows how to put on a show!
"He memorizes [the scenes] and Jim knows the parts. Like The Grinch: They'll act it out in the living room and Evan — I'm so scared to say it! — is an amazing mimic and actor, so he'll do the scenes verbatim with Jim. I have the best seat in the theater every night in the living room."
Source: Michigan Avenue