Jaci Velásquez and Nic Gonzáles Welcome Son Soren Arthur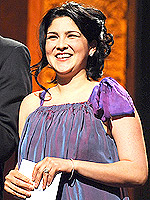 Rick Diamond/WireImage
It's another baby boy for Christian singers Jaci Velásquez and her husband Nic Gonzáles! Son Soren Arthur Gonzáles was born on Friday, February 20th at 6:30 a.m., weighing 8 lbs and measuring 20 ¼ inches. Updating her fans only hours after the birth via Twitter, Jaci shared that baby Soren arrived with "loads of hair and healthy."
Settling down for their first night home with their boys — including Zealand David, 16 months — Jaci twitters that the pair have decided to face the night shifts sans nurses. The following morning, however, the 29-year-old admits that the night was not as smooth as they had hoped! "I forgot how different it is with a newborn," she writes. Despite a rough start, Jaci later reveals that all is well in her household, as the proud parents look forward to the future with their boys.
"Much better. I think we have a bright future ahead, this little Soren man and I. I can't wait for all of you to meet him. We are doing pretty well, Soren only woke up once last night to eat. [Zealand] slept too."
The pregnancy was anounced in August. Revealing that they were expecting a second son, Jaci was looking forward to her household of boys. "I'm going to have men all around me in my life. Now I'm going to be the queen of the house."
Check out Jaci's Twitter for Zealand and Soren photos!
Source: Twitter