Got a Question for Marcia Cross?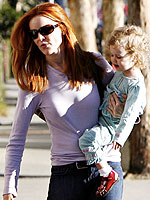 Revolution Pix/Fame
Desperate Housewives' Marcia Cross is one of our favorite celebrity parents. Mom to twin girls Eden and Savannah — who just turned 2! — the actress manages to squeeze in tons of family time with her daughters, and husband Tom Mahoney.
A fairly open book, Marcia has been vocal about her fertility struggles, motherhood, and most recently, confirmed her husband's cancer diagnosis. Now, the actress is speaking to CBB, and we want your questions! We'll be interviewing Marcia next week, and would love reader input.
What do you want to ask Marcia? Leave your questions below!
(Please note that we have limited time; your inquiry may or may not be used or we may use your responses to develop a set of questions.)