Benji Madden: An Uncle Again!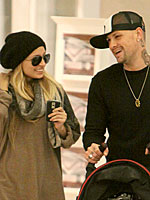 Limelight
They are twins who "share everything," but Benji and Joel Madden have very different lives right now – and Benji couldn't be happier. Two weeks after Joel and Nicole Richie announced that they're expecting baby No. 2, the "single" twin says he's ready to be an uncle again, just not a dad.
Besides, he's had a while to get used to the idea – he knew about the pregnancy long before it was announced publicly. "You have to wait before you can tell people," he admits at the World Poker Tour Celebrity Invitational in California. "I found out a little bit earlier. We're twin brothers so we share everything."
Benji, who calls the pregnancy "exciting," hopes his brother has a big family. "They're the best parents I've ever seen," he says.
With 13-month-old Harlow Winter Kate, the arrival of guitarist Billy Martin's 5-week-old son Dreavyn Kingslee, and a new baby on the way, "the family vibe in our band is really strong right now and we're all really enjoying that," Benji explains. "I'm the last single guy in the band so I get to dive into the music a little more, which I love. My life is great right now. It's wonderful."
But he doesn't rule out being a father in the future. "I'm great with kids and I absolutely want kids when the time is right and I have the right partner," he says. "I'll bring them on tour. They'll be little rock 'n' roll kids."
Source: PEOPLE
– Kimberly Lansing