Tina Fey Says Downtime is Dictated By Her Daughter Alice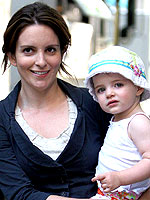 Luis Guerra/Ramey
Open to the idea of another child, Tina Fey will have to put in overtime to add a second baby to the mix! These days, life for the actress/writer/producer has organized itself into a three-part schedule — work, family, and sleep — which according to Tina leaves little time for much more.
After her short-lived maternity leave, Tina once joked that "NBC has me under contract, the baby and I only have a verbal agreement," and it seems that life for the 38-year-old has been non-stop ever since. "I work and then whenever I have any other time, I'm with my daughter, and then I go to sleep," she tells Times Online. Aside from her work commitments, Tina says that, as a parent, her only downtime is dictated by her 3-year-old daughter Alice Zenobia.
"I think you basically have to abandon the dreams of having any other adult activities in your life. You have to go to sleep whenever your child goes to sleep. That's basically how we're doing it."
Alice is Tina's daughter with Jeff Richmond. Next up for Tina is Date Night with Steve Carell.
Source: Times Online