Taboo Says He 'Bought Custody' of Son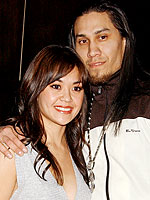 Vince Flores/Celebrity Photo
When Jamie Luis Gómez — better known as 'Taboo,' of the Black Eyed Peas — first began to feel the effects of commercial success, his thoughts didn't turn to the trappings of fame. Instead, the 33-year-old rapper says he was focused only on Joshua, the son he fathered while just a teenager, himself. "I didn't know what it was to have maturity and stability and I had to grow up fast," he explains. "As soon as I got a record deal, the first thing I bought was custody of my son."
"I didn't want a house or a car; I wanted custody. I was still living at my mom's house, but at least I had my son. Through a couple of successful records I was able to move out and get myself stable with a house."
Poised to welcome his second child — he and wife Jaymie Dizon expect a baby this summer — Taboo says he is "very excited" to tackle fatherhood with the benefit of true financial security.
"Now that I have a much more stable lifestyle – with the success of the group and my career – I can enjoy it more."
Joshua, now 15, is Taboo's son with a former girlfriend. Baby-on-the-way will be the first child together for Taboo and Jaymie, who were married last July.
Source: PR Inside