Orlando Magic's Hedo Turkoglu Welcomes Daughter Ela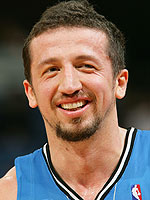 Rocky Widner/NBAE/Getty
It's a girl for Orlando Magic's forward Hedo Turkoglu! The first-time 29-year-old dad and his wife Banu welcomed their daughter Ela, yesterday, February 26th in Orlando, Fla. Baby girl Ela weighed in at 6 lbs., 1 oz., and measured 19 inches long. According to Magic Basketblog, both Banu and the couple's daughter are "fine." The report goes on to reveal that little Ela needs no lessons in exercising her set of lungs!
"Ela apparently cried almost as loud as her dad does when arguing a call."
The pregnancy was announced in October. When the news was shared, Hedo's coach, Stan Van Gundy, joked that he hoped the baby would "look like [Hedo's] wife" and inherit "her personality."
Source: Magic Basketblog
Thanks to CBB reader Victoria.