Julia Roberts Instills Healthy Eating Habits, the Old-Fashioned Way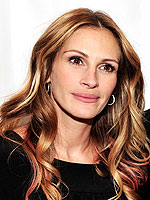 Steve Jennings/WireImage
Getting kids to eat their fruits and veggies is easier for some parents than others, and for those who are struggling Julia Roberts offers a suggestion: Grow your own! The 41-year-old actress says that her three children — 4-year-old twins  Hazel Patricia and Phinnaeus 'Finn' Walter along with 20-month-old Henry Daniel — take pride in the organic garden at their Malibu home, pride which is often reflected at the dinner table. "The children love it and I think it's the best training for them," Julia explains. "I think when children know their food sources they're more inclined to eat what they're growing because they're so proud of it."
"To watch my kids eat kale is a pretty proud moment for me as a mom."
Although she's worked less and less over the last few years, make no mistake — Julia's skills as an actor are still being put to the test! "When you've got three toddlers in the house you're performing all day long, anyway, with puppet shows and stories," she notes. "I act around the clock." And, like many moms, Julia says she often wonders where the time goes. "There are some days when as soon as you've finished cooking breakfast and cleaning the kitchen it's time to start lunch and by the time you've done that you're doing dinner and thinking there has to be a menu we can order from," she says. "Some days it's superfun and some days it's a chore." Even on those days that more resemble the latter, Julia says she wouldn't change a thing.
"My life at home gives me absolute joy."
Hazel, Finn and Henry are Julia's children with husband Danny Moder. Her new film Duplicity is in theaters March 20th.
Source: Mirror