Jermaine O'Neal Opens Up About Disappointing His Daughter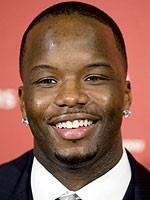 Adrian Wyld/ The Canadian Press/AP
No matter what he goes on to accomplish on the court, former Indiana Pacers star Jermaine O'Neal will most likely be remembered — at least in part — for his role in an off the court brawl with fans at a game in Detroit in 2004. That reality no doubt disappointed many people, not the least of which was Jermaine's then 5-year-old daughter Asjia, who learned about the incident from friends. "[She said] Dad, somebody told me you were suspended for punching somebody," the 30-year-old forward-center recalls in a new interview with the Sun-Sentinel. "The toughest part for me was to explain it to my daughter."
"More than anything, you want to be considered a great father and a role model, especially for your kid. So that was hard."
Jermaine — who now plays for the Miami Heat — says that the incident "shocked" his whole system. "Obviously you don't condone any type of fighting," he explains. "But you've got to make the best decision for you and your family at the time, and you don't have a lot of time to think out that process." He adds,
"If someone hits me over the head with a chair and kills me, who is going to tell my wife and my daughter and my son that Daddy's not going to come home?"
In addition to Asjia, who is now 10, Jermaine and wife are parents to a son.
Source: Sun-Sentinel