Gwyneth Paltrow Dishes On Her Little 'Posers'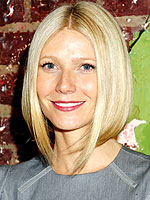 Richard Young/Startraks
Gwyneth Paltrow has often sung the praises of yoga, and now she's putting her money where her mouth is; Earlier this week, the 36-year-old actress hosted a benefit for Bent on Learning, a non-profit organization that brings yoga and meditation to New York City's public school students. Her own two children — Apple Blythe Alison, 4 ½, and Moses, 2 ½ — have a healthy curiosity but "don't do a yoga practice" themselves, Gwyneth tells Extra!
"They just fool around and they see us doing poses and so they imitate us. It's very cute."
Yoga isn't the only thing Apple and Moses are picking up from their mom, however, for they also share her love of rapper Jay-Z! Asked about a rumor concerning what the children call her and husband Chris Martin's close pal, the actress laughs, "Yes, it's true; My kids call Jay-Z 'Uncle Jay.' I call him Uncle Jay too now!"
Jay-Z and Chris recently collaborated on "Lost+," a song for Coldplay's Prospekt's March EP, performing the tune at the Grammys earlier this month.
Source: Extra!