Vin Diesel's New Role: Daddy Duty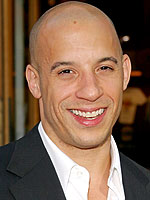 Kathryn Indiek/GLOBE
Famous on the big screen for his tough, no-nonsense performances, The Fast and Furious Vin Diesel's facade fades away when it comes to his baby girl. A self-proclaimed "changed man" since the birth of his daughter Hania Riley, now 10 months, the actor has willingly taken on a new role in his life — daddy duty — and the 41-year-old has no complaints! "I love it. I love being a dad," he gushes.
In addition to his new sense of self, Vin shares that the addition of Hania has affected his world in more ways than one. "It's changed my life and everything that falls under that umbrella," he admits. A frequent face in movies prior to the birth of his little girl, Vin reveals that, these days, the weight of his daughter — literally — has him staying close to home.
"You can't pull me away from my house as easily as you used to because I've got a 9-month-old thing on me and it's heaven."
Hania is Vin's first child with girlfriend Paloma Jimenez.
Source: Showbiz Spy