Melissa Joan Hart Wants a Big Brood; Talks Potty Training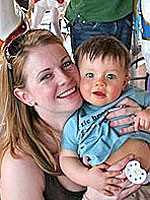 Courtesy MJHW for use on CBB
Actress Melissa Joan Hart always "knew that I wanted to have children" after growing up as the oldest of eight kids; the experience, she says, left her with her own dreams of a large family. "Having a big family has always been very important to me," she explains. "I would hate for my kids to not be able to experience that. Mark and I would like to have more eventually."
While she loves being a mom to sons Mason, 3, and Braydon 'Brady,' 11 months, she admits to feeling "overwhelmed" after Mason was born. "My mom told me to listen to myself. She said, 'You have really good instincts.' I think I cried. She kept telling me to just trust myself," shares Melissa. "Actually my doctor said the same thing to me recently."
"I think as parents we have this instinct, and if we just listen to it, we will know the right thing to do."
Melissa is thankful for Mark, who she calls the "perfect dad … I didn't know there were dads like that out there. He carries 60 percent of the workload when he is not on the road with the band." Mark's routine includes being "up in the morning with Mason, and I'm up all night with Brady. He makes breakfast in the morning — he's the cook; I don't cook. He gives Mason his baths, and he even takes care of the dogs." However, Melissa says at first "my husband was a softy" but they then "agreed that we had to be on the same team."
The couple's next parenting challenge is potty training Mason, something Melissa considers "one of your child's first lessons in independence." She knows that "it is a huge topic of concern among parents. As a parent you are always hungry for advice, but especially when it comes to potty training. That's the one time nobody tries to pretend they're the expert, and parents will try just about anything." The 32-year-old has learned that "with potty training, there isn't really a right or wrong way to teach your child, it's just whatever works for him."
Melissa, who bought Mason a potty after his first birthday, had originally planned to have him sit on it while watching TV. While this method worked initially, "he lost interest," she admits. "One day when he was around two, I was cleaning the bathroom and pulled it out. He was like, 'Potty, potty, potty.'" Since Mason "was so excited," Melissa "figured it was time" to start trying again.
"He went on it the first time! I thought, 'My kid is brilliant, and this is the easiest thing ever' …  But that didn't last. I approach each week with a new outlook because I have learned that what worked for him yesterday may not work for him today. Every day is a challenge — one day I think we have it handled, and then the next day there is a road bump."
Click below to read about Melissa's thoughts on postpartum weightloss.
Knowing that "dieting is such a big thing in Hollywood," Melissa was happy that her first pregnancy took the pressure to be thin off her mind. "At first it took a while to get rid of the food guilt, but then I was like, 'Let me at it!'" The actress "was eating and eating, and I gained a little too much weight when I was pregnant with Mason. I went back to my old comfort foods, pasta and bagels. I didn't have morning sickness, but I wasn't feeling well."
After giving birth, "I wasn't in any hurry to lose the pregnancy weight. I did lose it, but only once I put my mind to it." Melissa credits 'really good genes' for helping her get back into shape.  She also  "found that after having Mason, as soon as I stopped breastfeeding it was easier to drop the extra pounds."
"When you're trying to feed your kids healthy food, you take better care of yourself. After I had Brady, I began eating healthier right away. I was also chasing around a very active 2-year-old, which meant constant calorie burning."
Click here for an recent update from Melissa to CBB readers, with new photos of Mason and Brady!
Source: Parents