Julia Louis-Dreyfus Hopeful to Convert Sons Into Healthy Hikers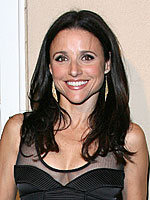 Jen Lowery/Startraks
Surrounded by countless celebrities using modern day methods to maintain their looks, Julia Louis-Dreyfus is venturing down a different path. Foregoing the knife for now, the actress attributes her youthful look to her healthy lifestyle — one that she is hopeful her two sons will eventually adopt. Gracing the cover of Shape magazine's April issue, Julia shares that she often finds herself trying to make nutritious choices for her "two growing boys" Henry, 16, and Charles, 11. "I'm concerned about what goes in their bodies," she says.
Although not a fan of nature walks when she was a kid — "I would recoil because I hated doing that kind of thing" — Julia now takes time out each week to hit the trails at one of her local parks. While the serene settings bring a sense of peace to the 48-year-old actress, she admits that her sons — who begrudgingly join their mom — have yet to grasp the enjoyment of nature. "There's something about the ritual of moving forward along a trail, pausing every now and then to look at the view or smell a flower," she explains. "Now, when I mention hiking to my own kids, they're like, 'Ugh!'" However, Julia has not lost all hope!
"I'm hoping for a residual effect with them though, and that by the time they're my age, they'll love going on nature walks as much as I do."
Henry and Charles are Julia's boys with her husband Brad Hall.
Source: Shape