Joovy Just Like Mine! Doll/Stuffed Toy Car Seat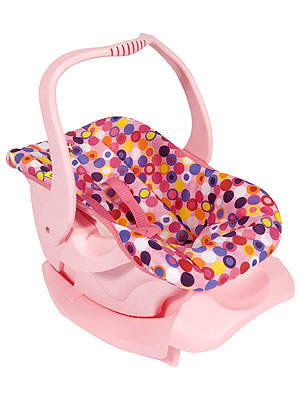 Joovy Just Like Mine! Doll or Stuffed Toy Car Seat with Safety Base
Joovy's Just Like Mine! Doll/Stuffed Toy Car Seat ($59) comes with a safety base and can be used for playtime, installed in the car or attached to Joovy's Just Like Mine! Doll/ Stuffed Toy Tandem Stroller (click here to read our recent review).
The toy car seat is actually crash-tested for carrying dolls up to 4 lbs and has a real 5-point safety harness and latch attachment. It's modeled like an infant car seat and easily releases from the base, so your child can take it in and out of the car. The carrier is a rocker when it's not in the base, if you want to make it a doll feeding seat, just rotate the handle back.
We love it because my son can play with it either in the house, attached to the Joovy Toy Tandem Stroller, or clicked into the toy safety base in our car. My son loves to carry the toy car seat around the house and especially loves carrying it down to our car. The base, while much smaller than a real infant car seat base, installed easily with the center lap belt — since I don't have LATCH in my car. My son loves taking Elmo on every car ride with us, safely strapped into the Joovy Toy Car Seat, of course!
Get it at the Joovy Online Store.
— Nancy