Teresa Strasser Expecting First Child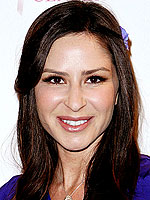 Landov
When former While You Were Out host Teresa Strasser found herself out of the running for a permanent spot on The View, she was left wondering what was missing in her life that would make her more appealing to the public eye. Her answer? A baby! "The producers said not only did they want a conservative, but also, they really needed someone who was likely to get pregnant in the coming season," she writes in a blog entry for H Monthly. With no immediate plans to start a family — and single at the time — Teresa "cried like the babies Elisabeth Hasselbeck would eventually have."
Fast-forward to six months ago and Teresa not only found herself married to IBM accountant Daniel Wachinski, but shares that the couple immediately began trying to expand their family of two. In an announcement made Friday on the last day of The Adam Carolla Show — which she co-hosted — the excited mama-to-be revealed that she is eight weeks pregnant with their first child! Delighted by the news, Teresa, who believes "babies are transformative, they make you more loving and patient," can't help but wonder about the "magical baby dust" that seems to have swept over Hollywood.
With internet searches for 'baby bump' producing millions of hits, Teresa blogs that the addition of a baby to a celebrity couple seems to boost their popularity with the media. "I used to think this was a brand new phenomenon, that because women have increasing power and earning potential, that it's somehow comforting to know that we are still partially just baby-making machines," she explains. "The threat we pose is mitigated by the hours we'll spend pregnant, nursing, changing diapers, or otherwise tending to kiddies."
Still, despite her realization of the newfound obsession with celebrity babies, Teresa tells her unborn child that she couldn't be more thrilled — for all the right reasons.
"Because said baby may be reading this in ten years, I want to make it absolutely plain that we want a baby for all the normal, healthy, unselfish, non-career related reasons. Still, while I'm terrified or not about whether I'll be a good mother, or have a healthy baby, or know how to love it fully … I'm totally confident about one thing: being pregnant is good for the business."
Teresa is due in late September/early October.
Source: H Monthly, The Adam Carolla Show
Thanks to CBB reader Cyndi.