Olive is Sacha's Biggest Fan, Says Isla Fisher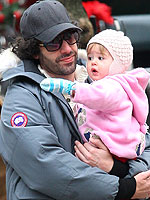 Splash News Online
With the recent family trip to the park showing quite the doting dad, Isla Fisher reveals that when it comes to her fiancé, actor Sacha Baron Cohen, what you see, is what you get! Famous for his comedic performances on the big screen — most noticeably that of Borat — Sacha is known for keeping his audience in fits of giggles, and according to the proud mama, the couple's 16-month-old daughter is his biggest fan. "He already makes Olive shriek with laughter," Isla tells Closer. For the 33-year-old Australian native, having a great father for her baby girl ranks top 0n her list of priorities.
"Sacha is wonderful, very attentive, constantly amusing, and very hands-on. He's 10 out of 10 I'd say — and then some!"
Crediting Sacha with her career switch to comedic roles — "it was he who pushed me towards auditioning for Wedding Crashers and the rest is history" — Isla shares that the family of three looks forward to expanding their brood further. While she admits there is currently "no great plan lurking out there" to make Olive a big sister, Isla and Sacha are taking a lackadaisical approach. "I'm sure it will just happen," says Isla.
Source: Closer via Scunthorpe Telegraph