Mythbusters' Kari Byron Expecting First Child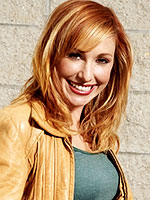 Discovery Communications
There is no myth to debunk here — Mythbusters Kari Byron is expecting a baby! Joined by her two costars Grant Imahara and Tory Bellecci in a video announcing the big news, the trio — all displaying large baby bumps — tease the viewers by asking, "Guess which one of us is actually pregnant?" Before the men birth their beach balls, a clearly elated Kari points down to her growing belly and confirms the obvious.
"That's right. I'm bustin' myths for two now!"
While the beaming mama-to-be is thrilled with the news, she admits that being pregnant on a scientific reality show is no laughing matter. Compiling a list of her top ten "things that have changed since getting knocked up," the 34-year-old jokes that her big belly has gotten in the way more than once! "When Grant says, 'Holy crap! Run!' I can waddle at best," she writes, adding, "I can't see what I am stepping in." Taking the pregnancy in stride with her make-shift "'Costanza' under my desk so I can take naps when no one is looking," an always "starving" Kari has a new found distaste for working in the field.
"My new keen sense of smell is a disadvantage when handling jars of gorilla poop, rotten ballistic gel or smelly, old socks from fans."
Baby-on-the-way is the first for Kari and her husband Paul Urich.
Source: Discovery