Tiger Woods Calls Injury 'Blessing in Disguise'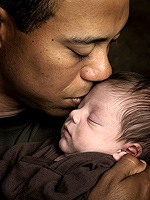 Dom Furore/Woods Family via Getty Images
After a lengthy layoff, Tiger Woods came roaring back to the golf course on Tuesday — but his companions over the preceding eight months were never far from his thoughts. Admitting to reporters that his attachment to wife Elin and the couple's two children — Sam Alexis, 20-months, and Charlie Axel, 2-weeks — caught him off-guard, Tiger adds,
"I didn't know it would be to this degree, the closeness that I feel…I didn't realize how much I loved being home and being around [them]."
Calling the injury which sidelined him a "blessing in disguise," the 33-year-old explains that it enabled him to "be away from the game and have an opportunity to be a part of Sam's growth and development and watch it." It sounds as though he wouldn't change a thing! "We've had so much fun, so many great times, and I would have missed some of those things," he shares.
Still, hitting the road to hit the links does come with its fair share of perks; The lack of sleep since welcoming Charlie has been "one of the tougher parts" of parenthood, Tiger says, and the ability to catch up on shut-eye softens the blow of his family's absence. "This is my week to get some sleep, get some rest, so I'll take full advantage of it," he jokes.
"But on a serious note, it's great. To have Charlie healthy and Elin healthy and obviously Sam just doing great, it just couldn't be any better."
Tiger's official return to the PGA Tour begins today at the WGC Accenture Match Play Championship in Marana, Ariz.
Sources: The New York Times and PEOPLE