Melanie Brown on 60 Pound Baby Weight Gain: 'Oops!'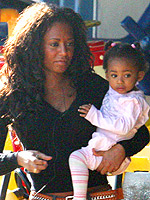 Fame
When Spice Girl Melanie Brown delivered a five pound baby girl — 22-month-old Angel Iris — following a 60 pound weight gain in 2007, she knew immediately that she had a problem on her hands! "It was that [thought of] 'Oops!'" she admits during a recent appearance on The Bonnie Hunt Show. "My mum came over to live with me [when I was pregnant] and cooked me all these English dinners." All good things must come to an end, however, and Mel says that high-calorie, home-cooked meals topped her list! She began working out at home in anticipation of her appearance on Dancing With the Stars, and good things followed.
"I thought to myself, 'I want to be in shape.' If you eat healthy and work out every other day, it does drop off. [You can exercise] when you have kids napping or at school. You have to have your me time. You have to work out and make yourself feel good about the way you look."
Next up for the family — Mel is also mom to 10-year-old Phoenix Chi — are the bright lights of Las Vegas, where the 33-year-old songstress will be performing for six months at the Hard Rock Hotel and Casino. "It's going to be fun, exciting and draining all at the same time," Mel says. "Luckily the show starts at 8 p.m. so I'll have all day with [the kids]."
"I can do school runs and all the food, and stuff. It will just be nice to be in one place for a certain amount of time."
Phoenix is Mel's daughter with ex-husband Jimmy Gulzar; Angel is her daughter with ex-boyfriend Eddie Murphy. Mel's new workout DVD Totally Fit is available now — check out our interview with her about it here!
Source: The Bonnie Hunt Show
Did you find yourself saying "oops" about your pregnancy weight gain?